Tents
Call 724-224-6224 for more information, availability and pricing.
A-1 Rental offers four types of tents to add a little piece of mind when it comes to the weather. A tent can offer protection from rain, but can also provide shade on a hot summer day. Don't let your special outdoor celebration be at the mercy of the elements, include a tent in your party planning.
High Peak Frame Tent
When you want to add a little more pizzazz to your outdoor event, this simple yet elegant tent will do the trick.
The High Peak Frame Tent is available only in the 20'x20' size.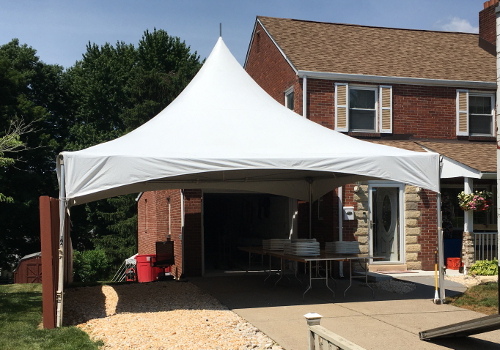 All Purpose Tent
The name says it all. This versatile canopy is available in a smaller size — 16'x16' — for when space is at a premium. This particular tent can be set up on grass only.
A-1 Rental is pleased to offers the All Purpose Tent in three sizes: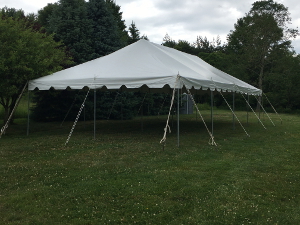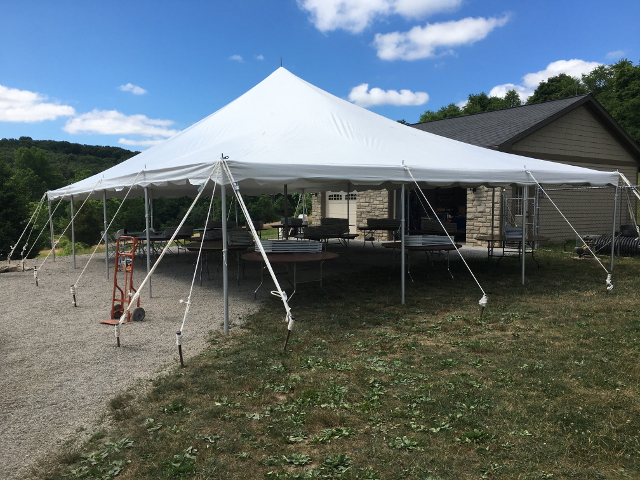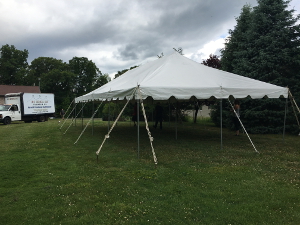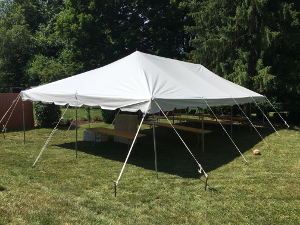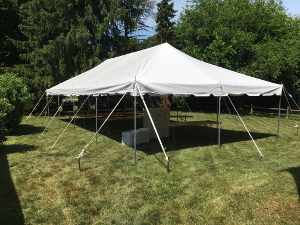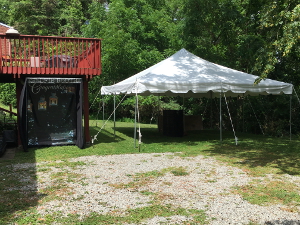 Century® Canopy
A memorable party begins with your imagination. A successful party begins with your choice of accessories. And a beautiful party, both successful and memorable begins with the Century Canopy.
Every detail of the Century Canopy is designed with one goal in mind — to provide your guests with most comfortable party atmosphere. From the white metal poles designed for a clean, bright appearance to the beautifully shaped tent top, the Century® Canopy is a delightful structure designed solely to create beautiful party spaces.
The Century Canopy gives truth to the statement — "a little rental can buy a big time." For your next party, include the Century Canopy on your guest list.
A-1 Rental is pleased to offers the Century Canopy in two sizes: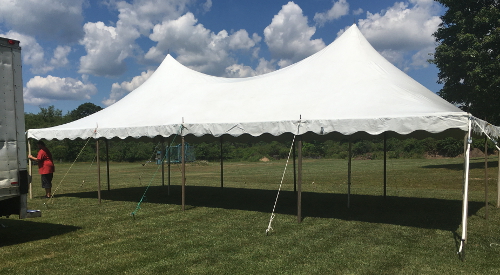 Original Party® Tent
The Party Tent was specifically designed and manufactured for rental and special events. Strong, durable long-lasting Party Tents feature simple installation, tough fabrics and quality in every stitch. Party Tent is the "industry classic."
A-1 Rental is pleased to offers the Party Tent in four sizes:
40'x40'
40'x60'
40'x80'
40'x100'
Fiesta® Frame Tent
The Fiesta Frame Tent System is the field-proven choice for rental and special events. For over 30 years, Fiesta Frame Tents have been at the top of preferred rental equipment lists because of their exceptional strength, stability, value and versatility. The Fiesta tent can be set up on a driveway, patio or even on grass.
A-1 Rental is pleased to offers the Fiesta Frame Tent in seven sizes:
20'x20'
20'x30'
20'x40'
30'x30'
30'x40'
30'x50'
30'x60'